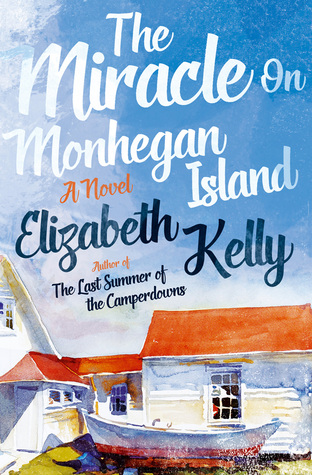 "A great read!"
The Miracle on Monhegan Island
by Elizabeth Kelly
This is the second book I have read  by Elizabeth Kelly and it won't be the last!  The Miracle on Monhegan Island is an absolute delight!  At first, I wasn't sure if I would like this book because the story is recounted by a dog who has been kidnapped, but it turns out that he very happy with his new family who certainly prove to be much more exciting then his previous owners.   Ned (nee Lupine) goes to live with the Monahans where he is given to young Hally by his rakish, wandering father, Spark, as reparation for his neglect.  Growing up on an island off the coast of Maine, Hally has been raised by his grandmother (now deceased), his evangelical grandfather, Pastor Ragnar, and his gentle uncle, Hugh.  Upsetting the eclectic group's dynamic, Spark's return is only a precursor to the very dramatic effects of the "Miracle"!
Entertaining, insightful and heart-wrenching, this is a great book for those who like stories about family drama, love and redemption.  If you like this, you should try Kelly's first book, The Last Summer of the Camperdowns.
Reviewed by Kris Chin