Welcome back to the Makerspace Blog! Today I want to tell you about the awesome screen printing workshop we held in the library a few weeks ago.  As you probably know, screen printing is the technique used to put images onto t-shirts but it can also be used to print on paper to make things like flyers, holiday cards, and invitations.  As I long for the days of decorating an old shoebox and finding it stuffed full of cards and candy from all my friends, I decided we should print Valentines!  Why should kids get to have all the fun, right?
The Makerspace is outfitted with a Silhouette Vinyl Cutter, which is basically a big sticker maker that can cut decals 12" wide by as-long-as-your-little-heart-desires. It's easy to import images downloaded from the internet as well as your own designs, and text-based compositions can be whipped up in no time!  I made vinyl stencils and stuck them to the printing screens ahead of time.  Participants then teamed up and took turns holding the screen while their partner used a squeegee to drag ink across it.  Just like using a cardboard stencil with a can of spray paint, the vinyl stencil protects the paper or fabric under the screen from the ink so it only seeps through the screen where intended. So easy!
We made a great variety of prints that night using plain and patterned paper, and everyone had a stack of Valentines to take home with them.  Best of all, two of the workshop participants came back the very next night, designed a decal on the computer, cut it out, made a screen and printed their design onto fabric which they then took home and sewed into pillows!  Seeing those two put their new skills to use was an even better treat for me than finding a shoebox full of chocolate!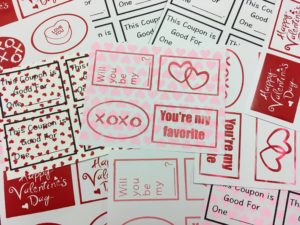 Thanks for stopping by to see what we've been up to in the Makerspace.  I'll be sure to post again next week.  In the meantime, be sure to check out our events page…the April workshop schedule will be up soon and (surprise!) we are adding daytime classes into the mix!