Medfield Library Hold Takeout
Hello! Please click on your desired date and time below to book your appointment time. Make sure you have holds available before you book your appointment. We're looking forward to seeing you soon!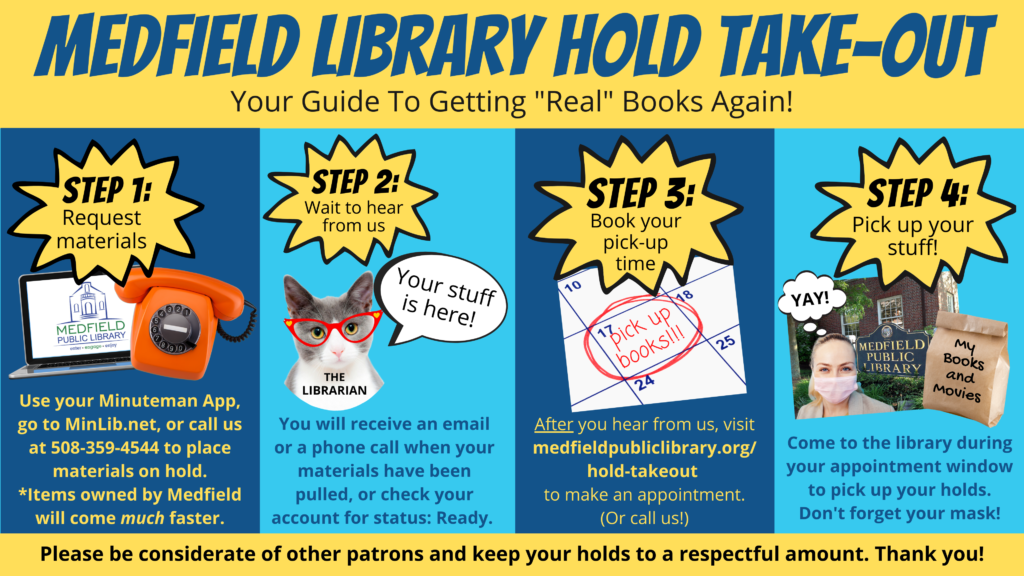 ---
Step 1: Place your holds through your account on find.minlib.net, on the Minuteman Library app, or by calling the library at 508-359-4544, Monday – Thursday 10 am – 6 pm, Friday and Saturday 10 am – 2 pm
Step 2: Wait for your holds to be filled! You will receive an email or phone call when your holds are ready or you can check your account for status: Ready
Step 3: After your holds are filled, pick an appointment time window below!
Step 4: Stop by the library during your appointment window to pick up your holds!
---
Available Appointment Times
---
Not sure what to put on hold? Ask the experts! Send an email to medfield@minlib.net or give us a call at 508-359-4544, Monday – Thursday 10 am – 6 pm and Friday – Saturday, 10 am – 2 pm, and we can help with book and movie recommendations for items in our collection. Or fill out this form for a list of several personalized book recommendations from our experienced staff. We are also creating lists of great books for all kinds of readers here.
We are now taking book donations! Drop the off at the library any time Monday – Thursday, 11 am – 6 pm, Friday – Saturday, 11 am – 2 pm in the area behind the door labeled "Bookstore Donations"
This is a completely new service for us, so please bear with us as we navigate this! If you are having any difficulties with placing a hold, please email us at medfield@minlib.net or call us at 508-359-4544. If you are having any difficulties with booking an appointment, please call 508-359-4544 or email the Library Director, Pam, at pgardner@minlib.net.