Teen Events and Programs at the Medfield Public Library
For a full list of the library's events and programs, check our calendar HERE
(switch from "All Events" to "Teens" in drop down menu for just the Teen Events)
All events are FREE thanks to the Friends of the Medfield Public Library and take place at the Library unless otherwise noted.
HAUNTED HOUSE VOLUNTEERS NEEDED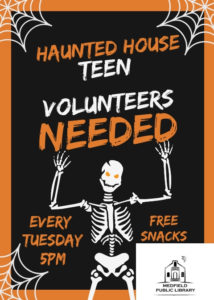 Our Teen Advisory Group (SLAY) will be meeting weekly, every Tuesday from 5pm to 6pm to plan our annual Haunted House!  We need actors, artists, prop makers, and more!  FREE snacks and prizes for all volunteers.  Let's get spooky!
Any questions, comments, ideas – contact Erica at 508-359-4544 or ecote@minlib.net
NEXT MEETING: SEPTEMBER 18TH
SPECTRUM
A club and safe space for Medfield's LGBTQ+ teens…1st & 3rd Tuesdays of the month @ 4pm (stay for SLAY at 5pm!)  FREE snacks…hang out, play games, make buttons/stickers/whatever!
NEXT MEETING: SEPTEMBER 18TH