The 2023 Membership Drive
Support the Library by Becoming a Friend or Renewing your Membership! 

By becoming a Friend, you join a valued group of donors who make an impact on the Medfield Public Library and the community it serves. Your annual support sustains programs and services that otherwise may not exist. A gift of any size is appreciated. We can't do it without you!
Donation online is easy! Become a Friend by clicking on button below and filling out our online membership form. We also accept one-time gifts and business donations.
If you wish to pay by check, click button below to print out our paper form and return to the Library. Copies of the form are also available at the Circulation Desk!
Donate by Check – Print Membership Form
NEW! The Friends Holiday Newsletter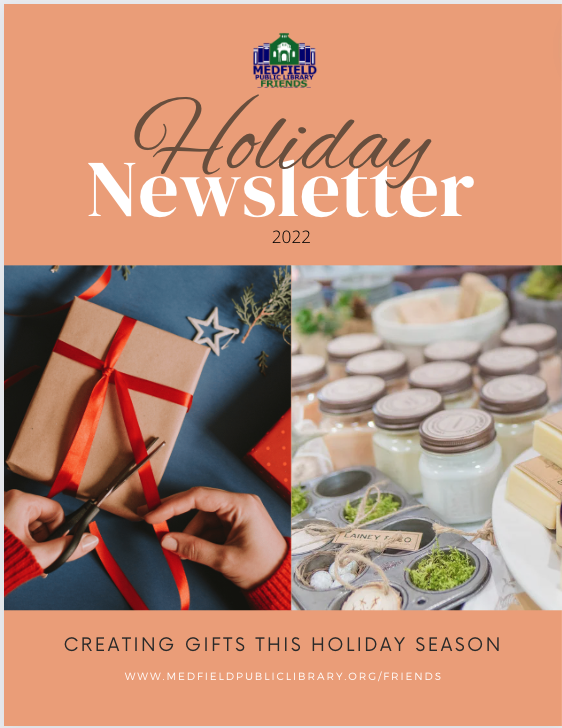 Presenting our end-of-the-year newsletter highlighting ideas for gift-giving. Did you know the library has great resources to create fun and easy gifts, plus ideas on how to make the long winter brighter! 
Friends Bookstore
The volunteer-run Friends Bookstore in the library is a community favorite for patrons to buy donated books and other items at deeply discounted prices. The bookstore is open when the library building is opened to the public. All proceeds go to the library to support services and programs. 
There is currently no half-price sale at the Friends Bookstore. Most books in the Bookstore are regularly priced from $.50 to $2. We also have our "Last Chance Books" cart filled with items priced at $0.25 each. We hope to bring back 1/2 price sales in the future. Thank you for your patronage.
Interested in donating gently used books, dvds, cds, puzzles, or games? Please call the library ahead of time and the library staff will give you more information.
Follow us on Facebook to see announcements about bookstore sales and news!
About the Friends
We are a volunteer, non-profit organization with the goal of raising awareness of and providing support for the Medfield Public Library. The Friends' donations enable the Library to provide programs, technologies, and materials that inspire, inform, and bring the community together.
Here is what the Friends make possible: Children's Programs, STEAM Room/Makerspace Materials & Equipment, 3-D Printer, Author Talks, Craft/DIY Classes, Summer Reading Incentives, Study Nights, Discounted Museum Passes, Self-checkout Stations, Creative Writing Awards… AND MUCH MORE!!
If you are an Amazon shopper, did you know that you can help the Friends of the Medfield Library while you shop? Make your Amazon purchases go further by shopping through Amazon Smile. Amazon will donate a percentage of your purchase to the Friends at no charge to you.
Volunteers
We always welcome volunteers! Interested in working at the bookstore or helping the Friends with event planning activities? Contact us at medfieldlibraryfriends@gmail.com to learn more. Become a Friend today!!
Annual Writing Prizes
The Friends of the Medfield Library congratulates the Medfield High School students who have been awarded its annual writing contests for prose and poetry ($500 for each prize) and the Amy Fisk Scholarship ($2,000 prize) competition in 2022. To read the winning 2022 submissions, click here.