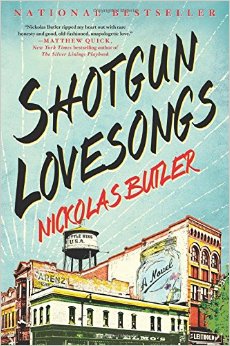 "An endearing love story from America's heartland."
Shotgun Love Songs
by Nickolas Butler
I love to read books about intertwined relationships; especially those involving old friends and lovers who part and meet again.  In Shotgun Lovesongs four friends come together to attend a wedding in their small hometown.  Sadder and wiser in their adult lives, they will face lost loves, missed opportunities and friendships so old and deep that there is hiding who they have become.
A great read!  Read-a-likes are The Interestings by Meg Wolitzer, The Book of Joe by Jonathan Tropper and South of Broad by Pat Conroy.