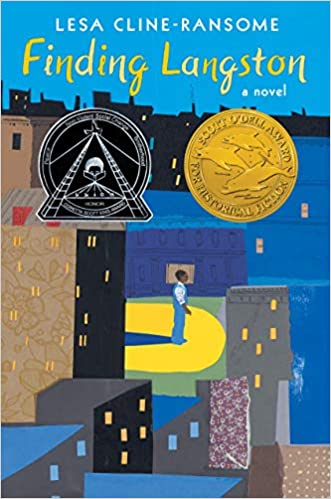 "A Powerful Middle Grade Trilogy"
Finding Langston
by Lisa Cline-Ransome
Finding Langston is the first in a trilogy by Lesa Cline-Ransome. It's a story about Langston, an 11-year old boy uprooted from his life in Alabama and thrust into 1946 Chicago where he moves with his Dad, seeking a better life after his mother dies. We follow Langston to school through his city neighborhood, witness his struggles as he deals with a bully, a new school and the difficulty of not fitting in anywhere – even with his Dad. He soon realizes that he can always escape his everyday world with a book and also discovers that he shares a love of poetry with his mother. Lots of historical facts are peppered throughout this fast paced book – we learn much about writers and other historical figures in Chicago, what life was like for African Americans during those years in the city and how it differed from life in the south, yet remained the same.
For ages 9 -12; grades 2-5.

From Library Journal: Cline-Ransome's novel is an engaging, quick, and relatable read that skillfully incorporates themes of race, class, post-war American life in the North and South, and a bit of Langston Hughes' poetry.
Find this book at the library here
Get book 2, Leaving Lymon, and book 3, Being Clem.
Reviewed by Susan.