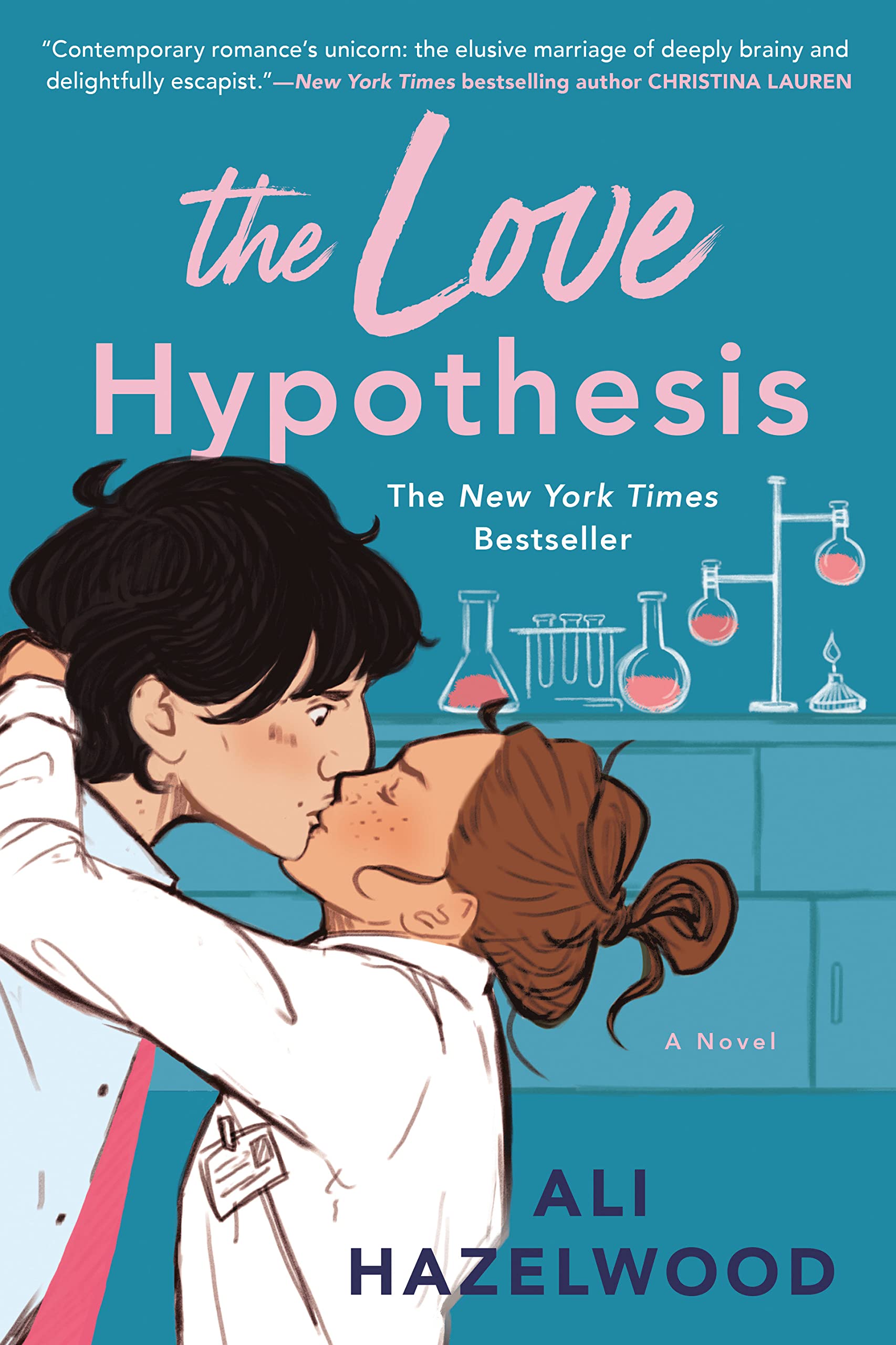 "A Romance Novel that Gets All the Stars"
Love Hypothesis
by Ali Hazelwood
I've always been a fan of the Romance Novel – I started reading them in junior high – but there has been a big shift in recent years from stories that revolve around two fairly one-dimensional people falling in love to stories about two complicated people, with depths of emotions and life experiences and medical conditions and diverse cultural and racial and socio-economic backgrounds and a full spectrum of gender and sexual identities falling in love, and we get to really learn about who they are as people while still getting that fun endorphin rush from the meet-cutes and built-up tension and happily-ever-afters. Plus, our will-they-won't-they protagonists always have a slew of quirky besties that enrich the story. Maybe these deeper romances existed 30 years ago, but I certainly didn't know about them, and they are just so good.
My new favorite is The Love Hypothesis by Ali Hazelwood. I'm really tired right now because I read it in 24 hours. I could not put it down. First of all, it's hilarious, and a RomCom is even better than a Romance. This one ranks in hilarity with two of my all-time favorites: Attachments by Rainbow Rowell and The Bookish Life of Nina Hill by Abi Waxman. The lovebirds here are biology PhD student Olive and Professor Adam (not her professor, that would be weird) who enter into a Fake Relationship for reasons I won't spoil for you, but the ridiculous situations created by their web of lies do not disappoint. This is a classic romance trope, but this book gets a little bit meta with it to humorous effect. While told in third person, we are inside Olive's messy brain at all times and the contrast between her self-deprecating thoughts and her sarcastic sass is sad and sweet and funny all at once.
Before I'd even finished this book, I went looking for others by the author because give me more! As it turns out, Ali Hazelwood has many other published works, but they are all in scientific journals because she is, in fact, a scientist, just like her characters. How did this side career come about when she is clearly very busy being a successful academic? It turns out Hazelwood used to write Star Wars and Star Trek Fan Fiction for fun, and she got so much positive feedback and encouragement from the FanFic Community that she decided to try writing something original. Somehow this story makes the book itself even better!
Romance novel disclosure: This one is middle of the road in the Steaminess Department: descriptive but not explicit.
Book rating: ALL THE STARS! Take it on vacation, unless you want to actually hang out with your friends and family, in which case stay home alone and read it guilt-free in a single day like I did. 
Review from Bri