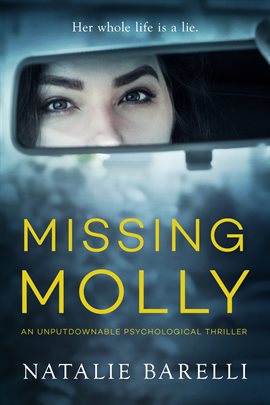 "A podcast brings a cold case back to life…"
Missing Molly
by Natalie Barelli
I really like a good psychological thriller book and this was one. I had never read Natalie Barelli, but I will again.
Rachel Holloway is a bookkeeper for a local newspaper but the paper is in trouble financially. To save the paper, the editor decides to run a podcast about young Molly Forster who disappeared 15 years ago after her parents and sister were brutally murdered in their own home. The podcast is called Missing Molly and the staff is investigating what happened to her after that night. The alleged murderer was arrested but committed suicide before the trial. But was the accused really the guilty person?
Rachel fights to keep the podcast from happening, but she is consistently overruled. As the investigation continues, the reporters suspect that the townspeople have many secrets and no one is talking. But the townspeople are not the only ones with secrets. Rachel has a secret too and she is horrified it will be discovered and put her and her loved ones in terrible danger. Rachel has been running from her secret for years.
This book is a page turner and a very quick read. 
Reviewed by Terri
Available as an ebook via Hoopla HERE and as a digital audiobook HERE