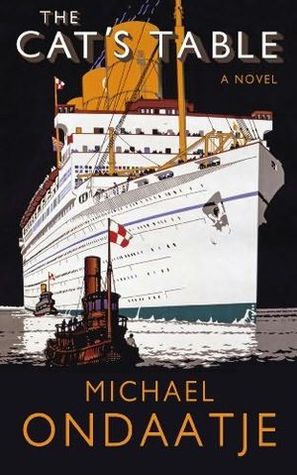 "Coming of Age Voyage on the Sea"
The Cat's Table
by Michael Ondaatje
This book takes place in the early 1950's and is a coming-of-age tale about a boy who is traveling aboard a ship from Colombo in Sri Lanka to England – via the Suez Canal and the Mediterranean sea. The "cat's table" in the title refers to where he is seated for his meals – at the table furthest from the Captain's table. Unaccompanied, he makes friends with two other boys and some other offbeat and eccentric characters and the narrative shares their adventures while onboard, with flashbacks coming later on as Michael looks back and reflects on his journey.
I found this book very moving. Beautifully written – it read as if every word, every punctuation mark, every phrase was carefully chosen to evoke the most perfect understanding of the world Mr. Ondaatje has created for us. The pictures he paints of the ship, the storms, the passage through the Suez Canal and the characters he peoples the book with – all wonderful and memorable. It's the perfect time to become immersed in a story like this one. I highly recommend it for lovers of historical fiction, tales of the sea, and coming-of-age stories.
–Available via Hoopla as one of their Bookclub-in-a-Box selections
–also available via Libby/Overdrive

Recommended by Susan