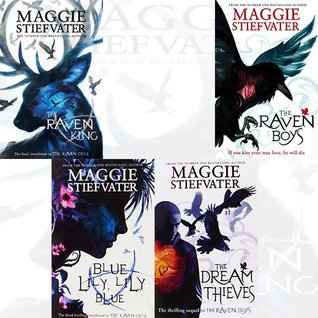 "Fantasy Series Reviewed by One of Our Teens!"
The Raven Boys series
by Maggie Stiefvater
Blue Sargent, who lives in a house full of psychics without being one herself, was told that when she kisses her true love, they will die. Despite this "curse" and the warnings from her mother, she is drawn to the Raven Boys which consists of Noah Czerny, Ronan Lynch, Adam Parrish, and the famous Richard (Dick) Gansey who is on the search for a lost Welsh king. As they team up to uncover the hidden magic in Henrietta, Virginia, they end up getting looped into more than they were bargaining for.
Although this series had its ups and downs, it was so exciting and refreshing. Geared more towards young adults but anybody older could also find enjoyment in the adventure. 
Find the always available audiobooks on Hoopla.
Find the ebooks and audiobooks on Overdrive.
Reviewed by Mairead, Teen Page