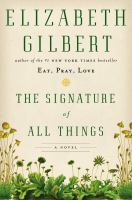 "Like stepping inside a greenhouse on a cold wintry day"
The Signature of All Things
by Elizabeth Gilbert
The Signature of All Things is a hard science fiction that beautifully captures the life of Alma Whittaker, a brilliant botanist born in the Age of Enlightenment. This story is filled with twists and turns and well written characters from sea captains to eccentric missionaries. Reading this book opens your mind to the beauty of science from bioluminescent plankton swirling in the ocean to the slow creep of moss in your own backyard.
Recommended by Charlotte