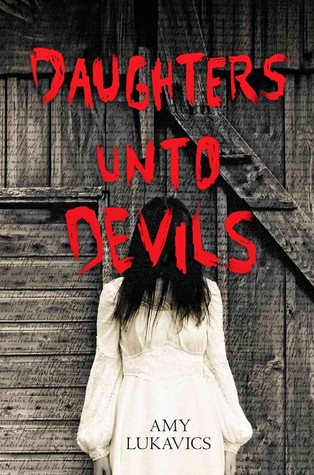 "A Gruesome Read for Horror Fans Available Right Now!"
Daughters Unto Devils
by Amy Lukavics
You were the one who wouldn't let me in when I knocked
Sixteen-year-old Amanda Verner is trying to put what happened last winter behind her. Living in a cramped cabin with six other family members, she craves a few moments of escape and relief. That's how she finds herself with an unwanted pregnancy as her family decides to suddenly move from their mountain home to the wide expanse of prairie miles away, where her father has been told of a surplus of empty cabins just waiting for them.Unfortunately, the story of rich land and beautiful houses is too good to be true. The family's new residence has evidence of a terrible crime and soon Amanda begins to fear that the devil she saw that winter may not be so easy to escape. But does the creature exist in this world, or only in her own haunted mind?
Daughters Unto Devils is said to be "If Little House on the Prairie were written by Stephen King" but after reading it, it's very clear that the inspiration might have been more Evil Dead than Carrie. The story's build up is slow and increasingly unsettling, causing the reader to wonder, along with its narrator, just what is real and what isn't. The final conclusion is altogether horrifying, gruesome and completely haunting. For fans of horror stories, don't let the YA label on this one turn to away. It's a fright you wont want to miss.
Daughters Unto Devils is available to stream on Hoopla here in both ebook and audiobook formats. Just don't listen to it late at night.
Reviewed by Athena