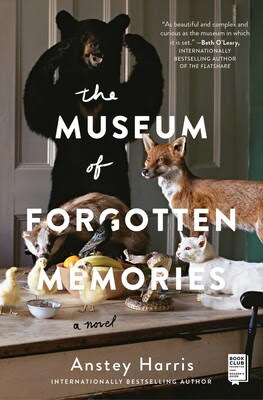 "A book to get you out of your reading slump…"
The Museum of Forgotten Memories
by Anstey Harris
When we went into lockdown last spring, I was too upset and distracted to read anything (which felt a little embarrassing at the time because, you know: librarian.) I eventually started reading again but only books that were light-hearted.  Bonus points if they made me laugh out loud. 
When I read a review of The Museum of Forgotten Memories that mentioned it took place in a Victorian-era taxidermy museum, and that the museum itself felt like a character in the book, I was intrigued enough to take a risk on a book that probably wouldn't make me laugh.  And it did not make me laugh.  But it didn't make me cry (much) either, even though our modern-day heroine, Cate, and her special-needs son are dealing with heartbreaking loss and a very scary and uncertain future. 
This book is really about hope and courage and strength. The entire cast of characters are fascinating and complex, the museum included among them! Anstey Harris' writing is simple, but lovely, and I enjoyed her descriptions of the museum (based on the real Powell-Cotton Museum in Birchington, England) and of Cate's inner thoughts. Unexpectedly, I sped through this book, loving the passages that delved into the past, and unable to wait to find out what would happen next.  I'll be moving Harris' first novel, Goodbye, Paris, to the top of my "To Be Read" Pile! 
Reviewed by Bri
Available as an ebook via Overdrive HERE