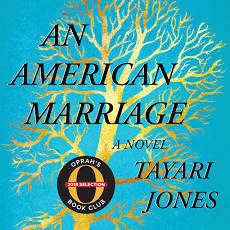 "An American Marriage – Available Online Now!"
An American Marriage
by Tayari Jones
This novel was truly one of the best reads of 2018 and beyond.  Jones, an African American author, writes a powerful story about what happens when a black man is imprisoned for a crime he did not commit.
Celestial and Ray are newlyweds and just starting their lives together – he as a young executive and Celestial as an artist. Unexpected circumstances occur that absolutely rip their lives apart and test their new young love to the limit. Roy is placed in jail, while Celestial must return to her past life feeling confused and angry. To help Celestial cope, her dear friend Andre brings her some comfort.
This a love story that stirs up deep feelings for three people who are dealing with forces beyond their control.
Available as eBook on hoopla and Overdrive
Available as downloadable audiobook on hoopla and Overdrive
Reviewed by Terri