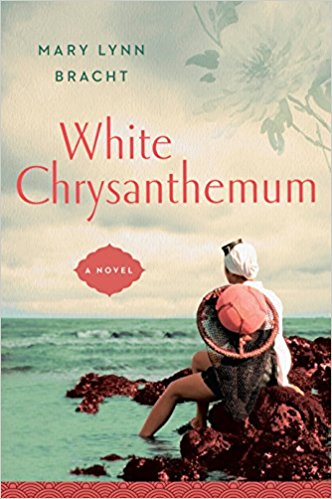 "WHITE CHRYSANTHEMUM"
WHITE CHRYSANTHEMUM
by Mary Lynn Bracht
This powerful debut historical novel by Mary Lynn Bracht tells about a part of history that is both painful and heartbreaking.  The story is about two sisters, Hana and Emiko who live on Jeju island off the coast of Korea. The women of the island are"Haenyeo" or divers who provide a living for their families. The people of Korea are living under Japanese rule as this story takes place during WWII.
The Japanese soldiers know these women are secluded and come to the island to forcibly take these young girls to be "comfort women" for the Japanese Army. Unfortunately, Hana becomes one of these young sex slaves at the age of 16. Hana offers herself to save her much younger sister,Emiko, from being taken also.
Thus unfolds the horrific life Hana is forced to live while her family struggles to live without her. The chapters alternate between Hana and Emiko and both tell their devastating stories. Emiko is filled with guilt and Hana fears death or worse at the hands of the brutal Japanese soldiers.
The white chrysanthemum is the flower for death and mourning and is a most appropriate title for this suspenseful and hopeful novel